Der TWPatcher patcht den DS-Modus des 3DS (TWL_FIRM) und ermöglicht schärfere Filter, sowie mehrere Patches – darunter auch ein Widescreen-Seitenverhältnis (16:10)!
Features
Entfernung des Filters für das Steuerkreuz, damit Links+Rechts und Oben+Unten gleichzeitig gedrückt werden können – nützlich für etwaige Glitches in Spielen
Blaulichtfilter
Tauschen des Bildschirms für den DS-Modus
Kommunikation zwischen dem ARM11- und ARM7-Kern damit sich bspw. der Gyroskop in WarioWare Twisted! über GBARunner 2 nutzen lässt
Nutzung der GPU für die Skalierung – evtl. aber zu verschwommen

Achtung, laut dem Entwickler kann dies bei Menschen mit einem anfälligen Nervensystem zu Störungen führen (bspw. Epilepsie)
Installation
Installiere die CIA und führe den TWPatcher aus
Drücke Y+B um das Patch-Menü aufzurufen
Aktiviere die Patches die du möchtest
Drücke "B", um das Patch-Menü zu schließen
Markiere eventuell noch einen Filter

Es reicht, den Cursor dort hin zu bewegen
Das Menü verschwindet nach kurzer Zeit, damit du auch den unteren Bildschirm sehen kannst. Drücke einfach eine Taste, um es wieder anzuzeigen.
Halte "X" gedrückt, um mit dem Originalfilter von Nintendo zu vergleichen

Drücke "START" um den Patch zu generieren

Achtung, der Patchvorgang kann schon mal fünf Minuten dauern!

In der Luma3DS-Konfiguration, aktiviere "Enable loading external FIRMs and modules"
Für den Widescreen-Patch und TWiLight Menu++: Kopiere die "SD://luma/sysmodules/TwlBg.cxi" nach "SD://_nds/TWiLightMenu/TwlBg/Widescreen.cxi" (erstelle den Ordner logischerweise, wenn er noch nicht existiert). Markiere dann ein Spiel mit dem Cursor, drücke "Y", um die Einstellungen aufzurufen und setze "Screen Aspect Ratio" auf "16:10".
Eigene Widescreen-Cheats zu TWLMenu++ hinzufügen

Hier ein 

Tipp für Profis

:

Du kannst auch selber Widescreen-Cheats zu TWLMenu++ hinzufügen. Die Dateien sind wie folgt aufgebaut: "GAMECODE-HEADERCRC16.bin", wobei du beides mit dem NDSHeader Tool bekommen kannst. Die BIN-Dateien dann einfach mit einem HEX-Editor bearbeiten und einen Widescreen-Cheat von hier einfügen. Beachte, dass die Byte-Blöcke umgedreht werden müssen, also statt "921F02DC 0000D008" -> "DC021F92 08D00000". Kopiere die BIN dann in "SD://_nds/TWiLightMenu/widescreen/".
Nur für Flashkarten

Beachte, dass du deine Flashkarten- und Retail-Spiele auch über TWiLight Menu++ abspielen kannst.

Wenn du TWLMenu++ meiden möchtest, kannst du den Patch auf alle Spiele anwenden, egal, ob sie einen Widescreen-Cheat haben. Beachte, dass du Cheats logischerweise nur mit Flashkarten benutzen kannst, also bietet es sich an, Retail-Spiele über TWLMenu++ zu starten.

Belasse die fertige "TwlBg.cxi" im Ordner "SD://luma/sysmodules/"
Kopiere die aktuelle usrcheat.dat auf die SD deiner Flashkarte
In der Luma3DS-Konfiguration, aktiviere "Enable loading external FIRMs and modules"
Aktiviere den Widescreen-Cheat für jedes Spiel, wenn es einen hat

Tipp für Profis: Mit bspw. r4cce lassen sich Widescreen-Cheats hinzufügen, falls du nicht auf ein Update der DAT warten möchtest.
Achja, du solltest beim Start der DS-Spiele nicht "START" bzw. "SELECT" gedrückt halten, um die originale Auflösung zu erzwingen, da das nicht funktioniert.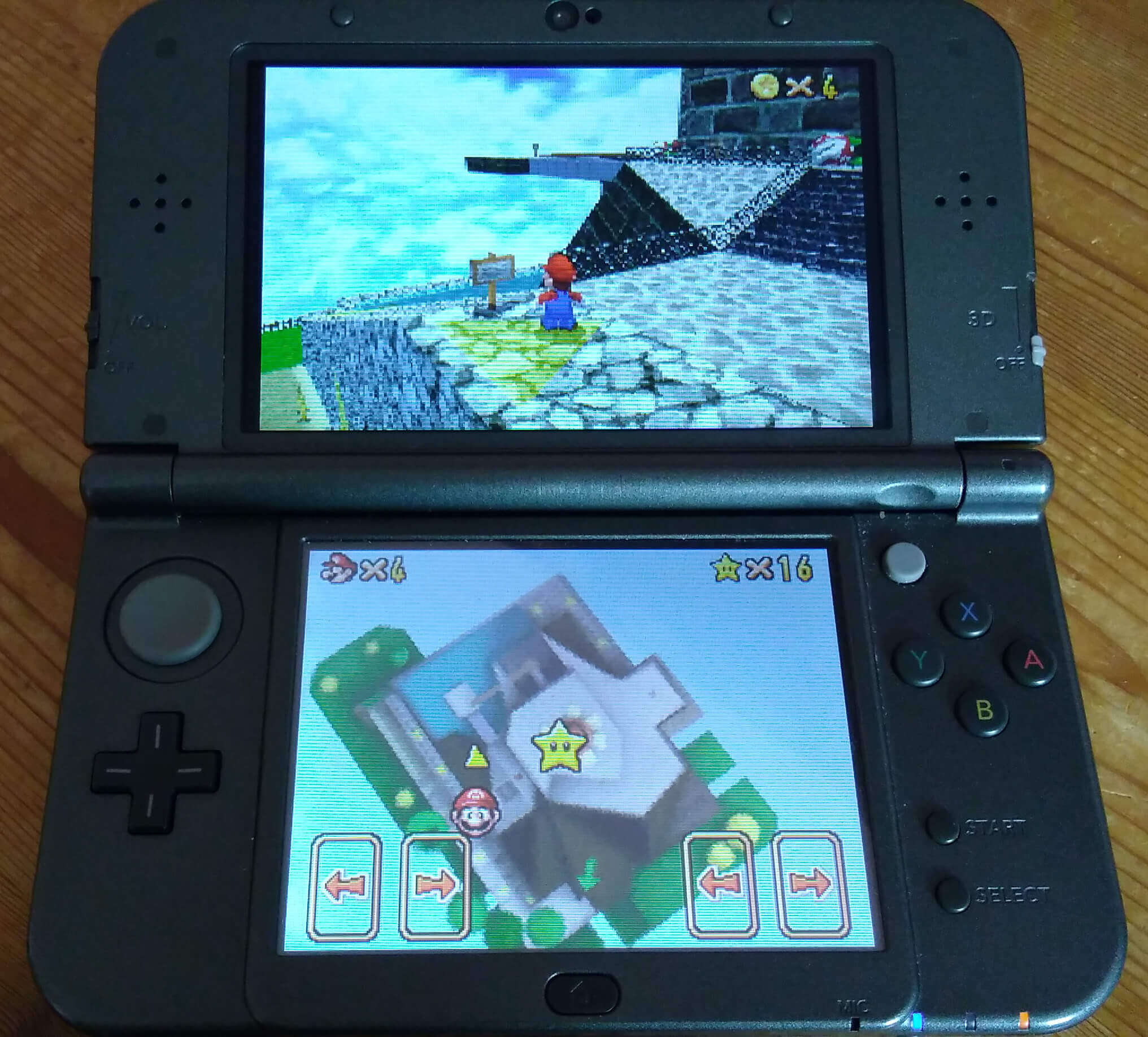 Hier noch ein  Vergleichsbild von SoulSilver ohne und mit Widescreen-Cheat. Der Cheat staucht die Grafiken einfach und TWL_FIRM streckt diese wieder auseinander: