Die d2x-cIOS sind "custom IOS", also modifizierte IOS, die neue Funktionen hinzufügen, die nicht in den offiziellen IOS vorhanden sind, bspw. USB-Support, der Trucha Bug und ES_Identify.
Installationsanleitung
Falls du kein Internet an der Wii hast, folge zunächst dem Spoiler "Offline-Installation" hier unten.
Offline-Installation

Lade dir mit dem

NUSD

vorab folgende IOS runter und hake "Pack WAD" an (und "Keep Encrypted Contents" ab):

IOS 38 v4123 (0000000100000026 v4123)
IOS 56 v5661 (0000000100000038 v5661)
IOS 57 v5918 (0000000100000039 v5918)

Klicke nun auf "Extras" und dann auf "Open NUSD Directory". Öffne dort wiederum den Ordner "titles" und kopiere aus den Ordnern jeweils die WAD-Datei in den Root deiner SD-Karte.
Entpacke die ZIP auf deine SD-Karte und führe den d2x-cIOS-Installer über den Homebrewkanal aus. Warte kurz und bestätige dann den Disclaimer. Falls du ein IOS wählen musst, wähle das IOS236. Dieses muss vorher gepatcht worden sein!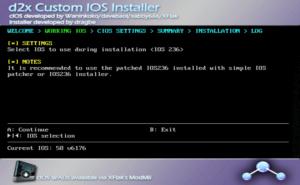 Wähle jetzt bei "Select cIOS" mit dem Steuerkreuz "v10 beta52 d2x-v10-beta52" und unten bei "Select cIOS Revision" die "65535".
Benutze nicht die v10 beta53 d2x-v10-beta53-alt!
Wenn du keine andere Version einstellen kannst: Du hast nicht den gesamten Download auf die SD entpackt. Es müssen ALLE Dateien auf der SD sind, nicht nur die boot.dol! Falls es trotzdem nicht geht, versuche eine andere SD-Karte.
Setze nun die folgenden Einstellungen und drücke danach immer die "HOME"-Taste, damit diese in einer Liste gespeichert werden (das sollte dann auch ganz unten in einer Erfolgsmeldung angezeigt werden):
| Select cIOS base | Select cIOS slot |
| --- | --- |
| 57 | 249 |
| 56 | 250 |
| 38 | 251 |
Drücke zum Schluss "A" und es wird eine Auflistung einiger IOS angezeigt – die oben gewählten Slots sollten blinken. Zudem wird mit einer Hintergrundfarbe angezeigt, ob die Slots aktiv oder gestubbt (= inaktiv) sind – das kann aber ignoriert werden. Drücke hier einfach wieder "A" und die entsprechenden IOS werden gedownloadet (falls Online-Installation) und gepatcht.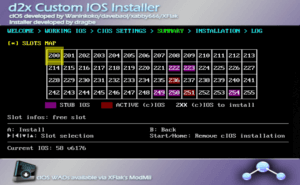 Verlasse den Installer mit "B".
Warum wir diese Base-IOS und Slots ausgewählt haben, haben wir in einem eigenen Beitrag beschrieben.
Problematische Spiele
Alle USB-Loader verwenden standardmäßig das cIOS 249. Das funktioniert mit 99% der Spiele, für den Rest muss ein anderes IOS gewählt werden. Skylanders und Band Hero benötigen bspw. das Base-IOS 56, also muss im USB-Loader das Spiel angeklickt, die Einstellungen geöffnet und der IOS-Slot auf "250" geändert werden (wenn du unserer cIOS-Empfehlung gefolgt bist). Gleiches gilt für Animal Crossing: Let's Go to the City – hier wird für die USB-Tastatur das Base-IOS 38 benötigt; folgerichtig also der IOS-Slot 251.
Die neueste Version des
USB Loader GX
wählt das korrekte cIOS automatisch aus.
Falls du nicht weißt, welches cIOS welches Base-IOS verwendet, kannst du einen SysCheck durchführen.
Weitere problematische Spiele findest du auf WikiTemp.