Entwickler
Sono
Webseite
gbatemp.net
Lizenz
Proprietär
Dateigröße
16,17 kB
Letztes Update
Version
b
Dieses PC-Tool patcht die TWL_FIRM (also den DS-Modus) des 3DS und ermöglicht es, DS-Spiele in Widescreen (16:10) abzuspielen!
Benutzung
Dumpe die exefs.bin deiner TWL_FIRM mit GodMode9:

SYSNAND CTRNAND -> title -> 00040138 -> x0000102 (wobei "x" für "2" auf dem New3DS und "0" auf dem Old3DS steht) -> content -> 000000yy.app (wobei "yy" für beliebige Zahlen stehen) -> mit "A" draufklicken
"NCCH image options..." -> "Mount image to drive" -> "A", um den Pfad zu betreten
"exefs.bin" anklicken -> "Copy to "0:/gm9/out""
Konsole ausschalten und die "exefs.bin" von "SD://gm9/out/" auf den PC kopieren

Die "exefs.bin" in den gleichen Ordner wie die EXE kopieren
Die "exefs.bin" in "section0.bin" umbenennen
SHIFT gedrückt halten und im Explorer rechtsklicken -> "Eingabeaufforderung hier öffnen"
Folgendes eintippen: mkpatch_b asd 1010 und mit ENTER bestätigen
Spiele in 16:10 abspielen
Kopiere die fertige "TwlBg.cxi" in den Ordner "SD://_nds/TWiLightMenu/TwlBg/"
Benenne sie in "Widescreen.cxi" um
In der Luma3DS-Konfiguration, aktiviere "Enable loading external FIRMs and modules"
In TWiLight Menu++, setze das Seitenverhältnis ("Screen Aspect Ratio") auf 16:10 (Einstellungen -> Games/Apps Settings)
Hierbei werden nur Spiele in Widescreen abgespielt, die einen 16:10-Widescreen-Cheat haben. Prüfe die enthaltene TXT-Datei im TWiLight Menu++ Download, um zu sehen, welche Spiele unterstützt werden.
Tipp für Profis: Du kannst auch selber Cheats hinzufügen. Die Dateien sind wie folgt aufgebaut: "GAMECODE-HEADERCRC16.bin", wobei du beides mit dem NDSHeader Tool bekommen kannst. Die BIN-Dateien dann einfach mit einem HEX-Editor bearbeiten und einen Widescreen-Cheat von hier einfügen. Beachte, dass die Byte-Blöcke umgedreht werden müssen, also statt "921F02DC 0000D008" -> "DC021F92 08D00000". Kopiere die BIN dann in "SD://_nds/TWiLightMenu/widescreen/".
Beachte, dass du deine Flashkarten- und Retail-Spiele auch über TWiLight Menu++ abspielen kannst. Wenn du das Programm allerdings meiden möchtest, kannst du den Patch auf alle Spiele anwenden, egal, ob sie einen Widescreen-Cheat haben. Beachte, dass du Cheats logischerweise nur mit Flashkarten benutzen kannst, also bietet es sich an, Retail-Spiele über TWLMenu++ zu starten.
Kopiere die fertige "TwlBg.cxi" in den Ordner "SD://luma/sysmodules/" – erstelle den Ordner, falls er noch nicht existiert
Kopiere die aktuelle usrcheat.dat auf die SD deiner Flashkarte
In der Luma3DS-Konfiguration, aktiviere "Enable loading external FIRMs and modules"
Aktiviere den Widescreen-Cheat für jedes Spiel, wenn es einen hat
Tipp für Profis: Mit bspw. r4cce lassen sich Widescreen-Cheats hinzufügen, falls du nicht auf ein Update der DAT warten möchtest.
Achja, du solltest beim Start der DS-Spiele nicht mehr "START" bzw. "SELECT" gedrückt halten, um die originale Auflösung zu erzwingen, da das nicht funktioniert.
Entwickler-Notizen
the "asd" part can be anything except "agb"
"1010" is a binary bitmask, 0th bit is rightmost, zerofill
bit list:
0 CTR_Redshift
1 debug text
2 trainer mode
3 DMPGL wide
4 "HID" patch, source code says "remove opposing DPAD check"
7 "DEBUG" patch, source code says "hidden debug patch"

rest of the bits must be zero or else fail

Note for patch selection:
If "bytes used" reports 100% or more then remove either the debug text or the redshift code!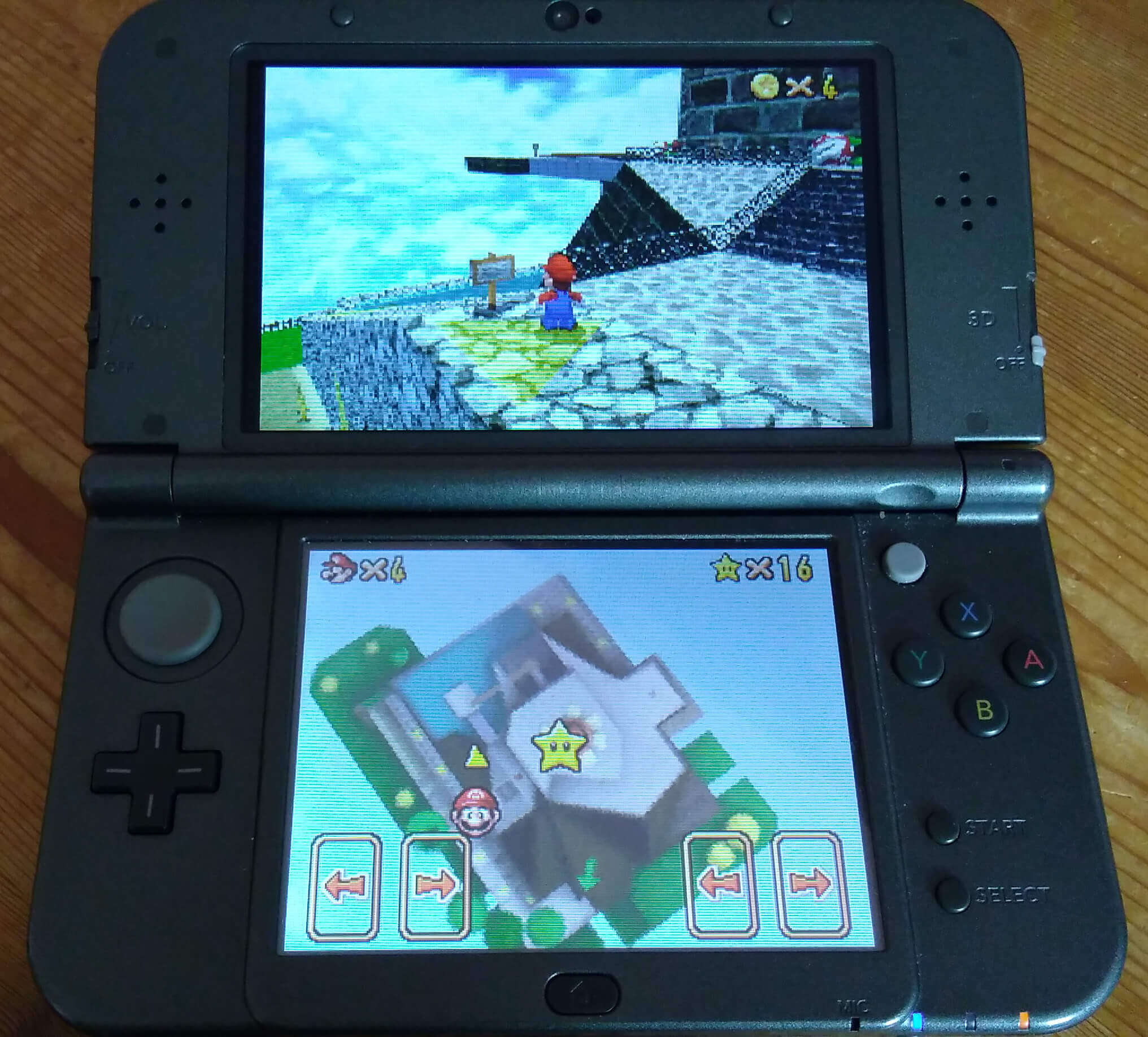 Hier noch ein  Vergleichsbild von SoulSilver ohne und mit Widescreen-Cheat. Der Cheat staucht die Grafiken einfach und TWL_FIRM streckt diese wieder auseinander: