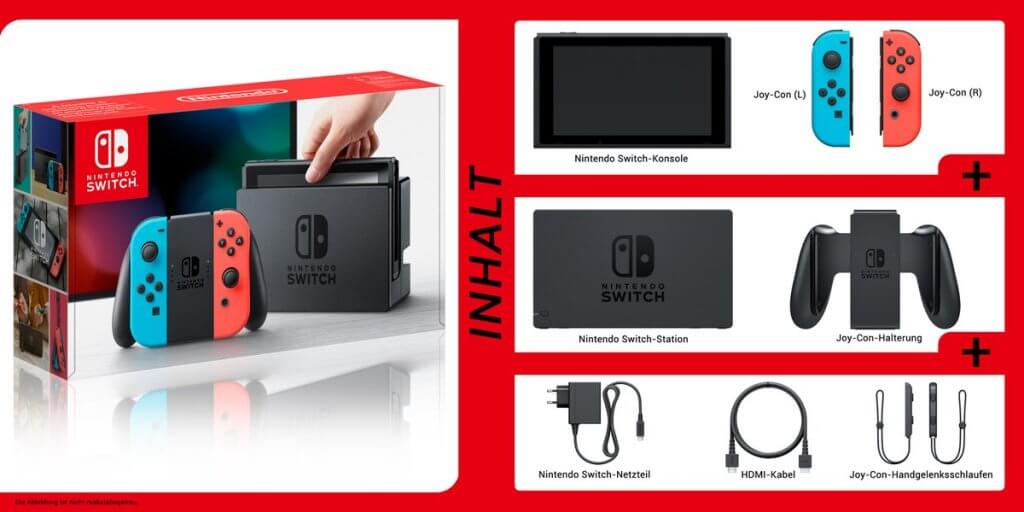 Die Switch-Präsentation ist beendet, hier ist unsere kurze Zusammenfassung!
ÜBER DIE KONSOLE
Die Nintendo Switch erscheint am 3. März 2017 für rund 330€, außerdem wird die Konsole keinen Region-Lock besitzen. Jeder Joy-Con-Controller kann als eigenständiger Controller verwendet werden, zudem besitzen diese HD Rumble, eine Infrarot-Bewegungskamera und es gibt einen Aufnahmeknopf. Des Weiteren besitzen die Joy-Cons NFC-Support für amiibo. Bis zu acht Switch-Konsolen können im lokalen Multiplayermodus gegeneinander spielen. Die Batterielaufzeit beträgt zwischen 3 und 6 Stunden, je nach Spiel. Die Konsole beinhaltet 32 GB internen Speicher; dieser lässt sich leicht per microSDXC aufrüsten. Der Bildschirm der Switch ist 6.2-Zoll groß, besitzt eine Auflösung von 1280×720 Pixeln und Multi-Touch.
Es wird zwei Pakete geben – eines mit grauen Joy-Cons und eines mit einem blauen und roten Joy-Con. Beide Pakete enthalten jeweils eine Switch-Konsole, eine Switch-Station, eine Joy-Con-Halterung, ein Netzteil, ein HDMI-Kabel und zwei Joy-Con-Handgelenkschlaufen.
Der Online-Modus wird bis zum Herbst kostenlos sein, danach wird eine Gebühr fällig. Zu den Kosten hat sich der Spielehersteller nicht geäußert. Laut der Nintendo-Website wird es eine separate App für mobile Geräte geben, mit der Freunde eingeladen werden können. Außerdem ist ein Chat mit Freunden (auch während des Spiels) in kompatiblen Spielen möglich. Zudem soll es jeden Monat ein gratis NES- oder SNES-VC-Spiel mit neuem Online-Play für einen Monat geben. Mit dabei sind auch exklusive Rabatte und Deals.
SPIELE
Zuerst wurde "1-2-Switch" gezeigt, ein neues Partyspiel, welches zum Launch verfügbar sein wird. Hier soll man "seine Gegner ansehen, nicht die Konsole". Im Frühling wird auch ARMS erscheinen, eine Art Boxspiel mit ausfahrbaren Armen.
Im Sommer erscheint Splatoon 2, welches auch den lokalen Mehrspielermodus unterstützt.
Das neue Sandbox-Spiel Super Mario Odyssey wird Ende 2017 erscheinen. Es spielt auch an realen Schauplätzen.
Weitere Spiele ohne Release-Datum sind: Xenoblade Chronicles 2, Fire Emblem Warriors, ein neues RPG von SQUARE ENIX, FIFA und einige weitere.
Einen kurzen Ausschnitt gab es von Mario Kart 8 Deluxe. Ein kurzes Video erschien erst nach der Präsentation auf dem amerikanischen Kanal – es handelt sich dabei um eine erweiterte Version von Mario Kart 8, welche am 28. April 2017 erscheinen soll. Ob dies auch das europäische Release-Datum ist, ist nicht bekannt. Der Battle-Modus wurde gefixt und es gibt mehr Strecken und Charaktere – u.a. die Inklinge aus Splatoon.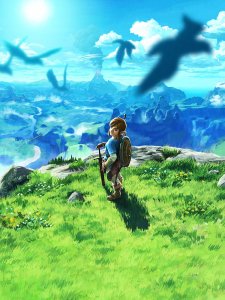 Am Ende wurde noch ein Trailer zu The Legend of Zelda: Breath of the Wild gezeigt. Das Spiel wird am 3. März für Switch und Wii U erscheinen.
Das war es dann erst mal an diesem frühen Morgen. Die Präsentation könnt ihr auf YouTube noch einmal ansehen – eine untertitelte Version wird gegen Mittag verfügbar sein.