Erneut sind auf 4chans /vp/-Board mehrere interne Dokumente von Nintendo geleaked worden. Der interessanteste Teil darin ist der Umgang mit Moddern aus der Homebrew-Szene.
Der erste Teil besteht aus dem Nintendo-Switch-SDK von Ende 2015. Enthalten sind Code-Beispiele, Anweisungen und mehrere Demo-Dateien. Zudem finden sich mehrere kompilierte Systemmodule in dem Archiv, allerdings können wir den genauen Einsatzzweck nicht bestimmen. Sowohl Dev-, als auch Release-Versionen von diesen sind enthalten. Auch Treiber zum Debuggen über USB sind enthalten. Mit dem "Target Manager" lässt sich sogar der Bildschirm der Switch lagfrei über USB-C zum PC streamen!
Der zweite Teil ist weitaus interessanter und enthält zahlreiche interne Dokumente zum DS, 3DS, zur Wii U und zur Switch. So sind mehrere Screenshots der 32C3-Präsentation zum 3DS enthalten. Abgerundet wird das Ganze durch mehrere PowerPoint-Präsentationen zum Thema Security in Bezug auf Nintendo-Konsolen. Auch mehrere Exploits, wie etwa memchunkhax2 werden angesprochen, deren Fix und dass diese Fehler nicht direkt, sondern "indirekt" behoben werden sollen, damit bei einem Diff dies nicht sofort auffällt. Auch eine PDF zum Memory Hashing und zur Encryption der Xbox 360 findet sich im Leak.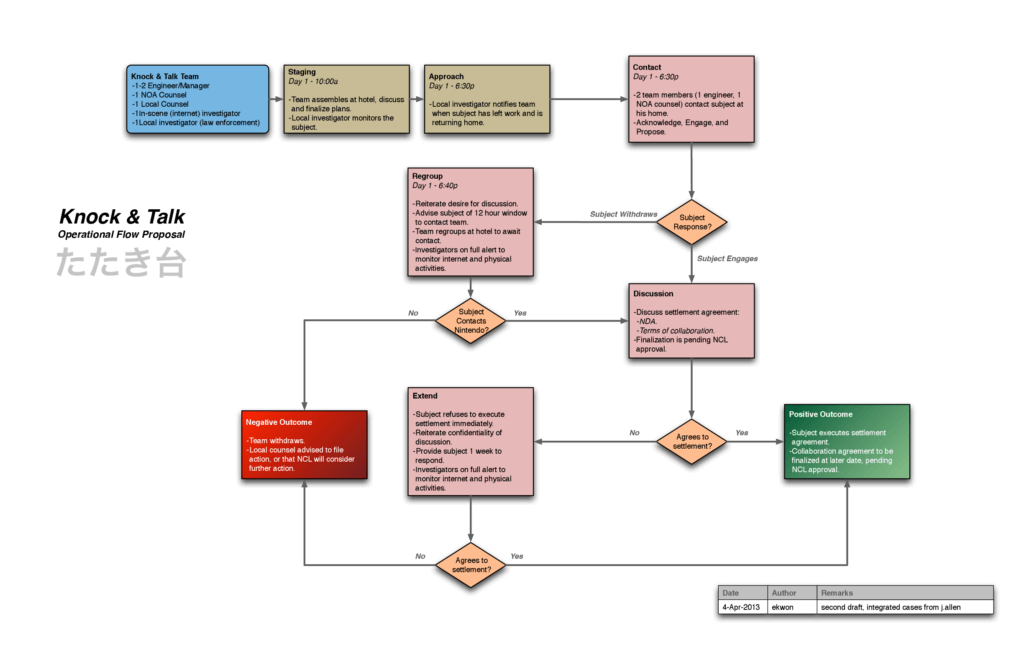 Der Teil, der am meisten Aufmerksamkeit erlangte ist die Beschreibung von einer Strategie, die Nintendo "Knock and Talk" bzw. "Belgian Waffle" nennt. So soll Nintendo mit einem Privatdetektiven u.a. den bekannten 3DS-Modder Neimod ausspioniert und nach Hause verfolgt haben, um mit ihm zu sprechen, damit er seine Modding-Aktivitäten einstellt, ansonsten würden rechtliche Konsequenzen drohen. Enthalten ist auch eine Klage gegen Neimod, eine detaillierte Beschreibung seines Lebensumfelds, eine Unterlassungserklärung, sowie ein "blanko" Non-Disclosure-Agreement. Neimod soll laut einer PowerPoint-Präsentation Interesse an einer Zusammenarbeit mit Nintendo gezeigt haben, um Gateway zu analysieren.
Das Ganze soll im Juli 2013 passiert sein, was auch etwa in den Zeitrahmen fällt, als Neimod seine Flickr-Bilder gelöscht hatte. Allerdings wurde auch spekuliert, ob es nicht daran liegen könnte, dass Neimod eventuell den ersten 3DS ROM-Dump publik gemacht hat.
Das Word-Dokument, welches die Runde macht, beschreibt ein Beispiel und nicht den "Knock-and-Talk"-Prozess, wie er wirklich abgelaufen ist, was leider durcheinander gebracht wird.
Dort sieht man auch, dass "Example" markiert ist, zusammen mit den Worten "mögliche Ergebnisse". Zudem ist dies auf April 2013 datiert.
Die Strategie soll funktioniert haben und weitere Ziele, wie etwa Yellows8, marcan und geohot (letzterer eher bekannt aus der PS3-Szene) wurden vorgeschlagen.
Ein Unterordner dreht sich ganz um Smealums NINJHAX bzw. "SSSpwn", wie er damals genannt wurde. Dort wird der Exploit im Detail beschrieben und man plante wohl, ebenfalls eine Vereinbarung mit Smea zu treffen. Schon hier berät Nintendo intern über ein Bug-Bounty-Programm, welches man erst Ende 2016 startete.
Alles in allem ist Nintendos Strategie, die Modder dazu zu bewegen, für Nintendo zu arbeiten und nicht mehr an Homebrew.
Im letzten Archiv finden sich wieder Dokumente, Präsentation und Excel-Tabellen zur Switch. Hier geht es vor allem um Switch-Cartridges und laut "Forest of Illusion" sollen hier auch ein älterer GameCard-ASIC-Key und ein Foto eines Switch-Prototypen liegen, der einem damaligen Fake-Leak sehr nahe kommt.
Sicherlich finden sich dort noch mehr spannende Sachen, allerdings wäre es sehr viel Arbeit, alles zu sichten und zu verifizieren. Insofern aber eine spannende Sache. Marcan berichtete wenig später auch, dass damals auch bushing auf seinem Arbeitshandy von einer Nintendo-Anwältin kontaktiert wurde, um ihn einzuschüchtern.