Eine Warnung zum Hauptmenü wurde hinzugefügt, die vor der Abschaltung des Wii-Shop-Kanals warnt. Niemand weiß, ob und wie lange die Update-Server dann weiterhin online sein werden; denn wenn diese down gehen, wird es nicht mehr möglich sein, IOS legal zu beziehen. Aus diesem Grund wurden auch mehrere Download-Listen integriert, mit dem dieser Prozess deutlich vereinfacht wird!
Die empfohlene d2x-cIOS-Konfiguration wurde geändert – so wird jetzt das cIOS 249 mit Base 57, anstatt Base 56 angeboten und vice-versa für das cIOS 250. Beide Varianten sind aber "korrekt" und die erste empfehlen wir sogar. Es sollte keinen Unterschied bei der Spielekompatibilität machen. Des Weiteren ist der USB Loader GX nun der empfohlene USB-Loader und wird per Standard eingerichtet und neben dem Beheben von kaputten Bildern und GIFs in den Guides wurde auch MyMenuify Mod auf v1.6 aktualisiert, was es kompatibel mit den (inzwischen nicht mehr so) neuen Wiimotes macht. Die gleiche Version findet ihr jetzt deshalb auch in unserer Datenbank.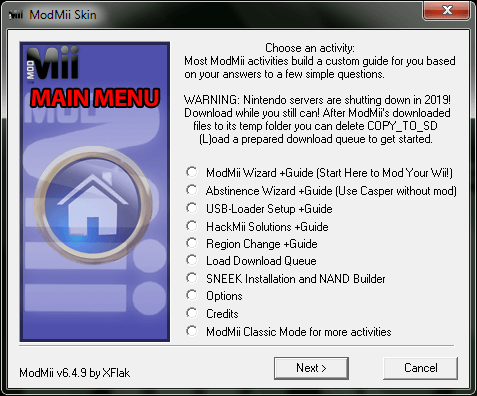 * Added warning to main menu suggesting users should download files from NUS before Nintendo Wii servers shut down in 2019.
* Bundled prepared download queues for users to easily grab files from NUS for future use.
* Changed recommended cIOS249 to base 57 from 56, and cIOS250 to base 56 from 57. Syscheck updater will consider both configurations as up to date.
* Added USB-Loader GX and made it the default\recommended USB-Loader.
* Added Nintendont to ModMii Classic's download page 2.
* Updated MyMenuifyMod to v1.6 to support wiimote plus remotes.
* Fixed broken links to guide images and gifs.
* Other minor changes.
* With 3 kids and counting who's got time for changelog jokes?