Epische Ankündigungen: Eine kurze Zusammenfassung!
Paper Mario Sticker Star kommt am 7. Dezember 2012.
Fire Emblem Awakening kommt im 2. Quartal 2013.
Pokemon Traumrader: Übertragt Pokemon zu B/w2 ab 12. Oktober!
Luigis Mansion 3DS erscheint Q1 2013.
Limitierte Ausgabe eines Pikachu 3DS XL -> Dieses Jahr!
Der Stream fror dann kurz ein -> Technische Probleme.
Entschuldigung an alle, die versucht haben, #NintendoDirectEU über unsere Ustream-Seite zu sehen. Wir haben zurzeit technische Probleme!

— Nintendo DE (@NintendoDE) October 4, 2012
New Style Boutique ist am 16. November erhältlich.
"Fallblox", der Nachfolger von "PullBlox"  kommt im November.
Hana Samurai erscheint am 11. Oktober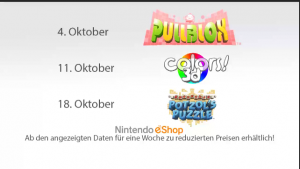 PullBlox, Colors 3D und Potzols Puzzle werden an den oben angegebenen Daten ermäßigt angeboten.
Hydroventure: Spin Cycle im November für 3DS.
Nano Assault EX im Dezember.
Professory Layton die Maske der Wunder am 26. Oktober.
neue Titel von Level5: Liberation Maiden, AEROPORTER und CRIMSONSSHOLLY im eShop. Jetzt, im November und Dezember!
Neue Titel im eShop: Super Mario 3D Land, Mario Kart 7, Legend of Zelda: Ocarina of Time und Starfox 64 3D!
Devil Survivor Overclocked: Dieses Jahr im eShop.
VIRTUES LAST REWARD im November!
Monster Hunter 3 Unlimted für 3DS, mit Multiplayer: Man kann mit 3DS und Wii U spielen: Im März 2013!
Weißer 3DS XL mit Mario Kart 7 am 16. November: Mario Kart 7 ist darauf bereits vorinstalliert!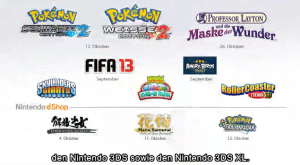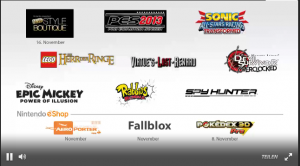 Für das 3. Bild war ich zu langsam