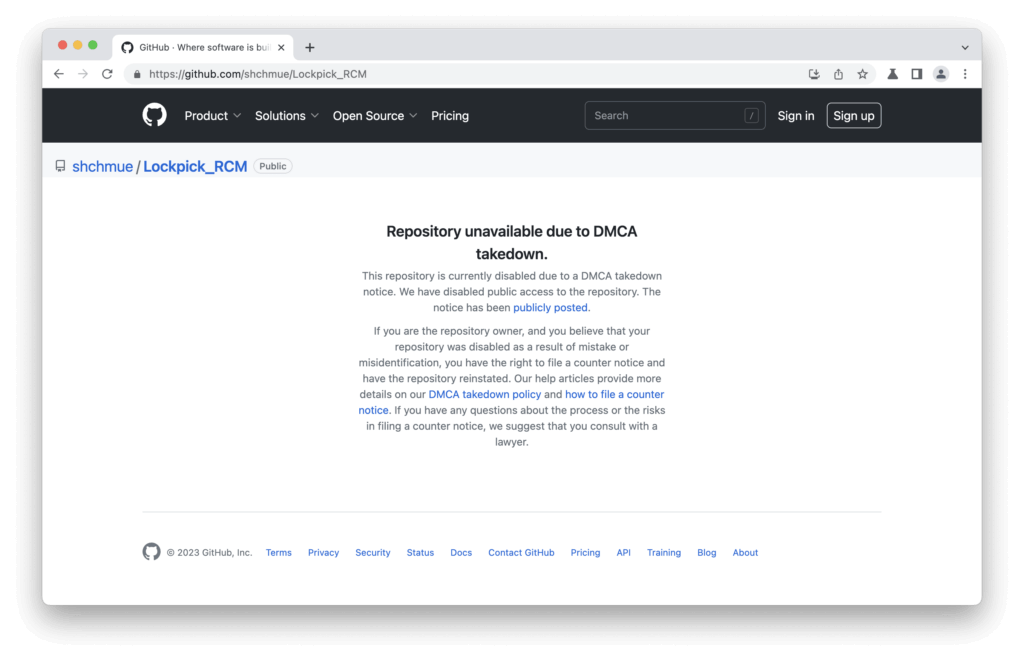 Kürzlich wurde ein DMCA-Takedown an GitHub wegen Lockpick und Lockpick RCM gesendet. Heute hat GitHub die Repository gesperrt. Als Reaktion darauf haben die Entwickler hinter dem Switch-Emulator Skyline die Entwicklung eingestellt.
---
UPDATE, 10.05.23, 15:24 Uhr: Mittlerweile verdichten sich die Hinweise, dass der DMCA-Takedown nicht direkt von Nintendo stammt. So gab ein Nutzer auf Twitter zu, massenhaft E-Mails an die Firma "Marketly LLC" gesendet zu haben. Diese Firma wurde vor einigen Jahren durch Corsearch übernommen; beide fallen durch zahlreiche automatisierte "Bogus" DMCA-Takedowns auf (Recherche von hexkyz auf dem ReSwitched-Discord).
Auf dem ReSwitched-Discord bekräftigt SciresM auch selbst, dass er glaubt, dass der Takedown nicht direkt von Nintendo stammen kann u.a. aufgrund der Wortwahl im Vergleich zu früheren DMCAs.
Da der DMCA-Takedown eine Signalwirkung hatte, wird dies sicherlich aber auch im Interesse von Nintendo sein und im Endeffekt ist es irrelevant, wer ihn gesendet hat. Es ist unklar, ob Corsearch mit Nintendo zusammenarbeitet.
Insofern habe ich mich gegen einen Beitrag entschieden, der den DMCA als "fake" bezeichnet, da er nicht "fake" ist. Er erscheint quasi nur in einem anderen Licht.
Der editierte Originalbeitrag folgt.
---
Beim Digital Millennium Copyright Act handelt es sich um ein US-Gesetz zur Verfolgung von Urheberrechtsverletzungen, welches aber so ausgelegt ist, dass es den Rechteinhaber bevorteilt.
In dem Takedown, der bei GitHub am 04. Mai einging, steht, dass Lockpick die Kopierschutzmaßnahmen von Nintendo aushebelt und sich mit den entschlüsselten Keys nicht-gekaufte Spiele abspielen lassen würden.
The use of Lockpick with a modified Nintendo Switch console allows users to bypass Nintendo's Technological Measures for video games; specifically, Lockpick bypasses the Console TPMs to permit unauthorized access to, extraction of, and decryption of all the cryptographic keys, including product keys, contained in the Nintendo Switch. The decrypted keys facilitate copyright infringement by permitting users to play pirated versions of Nintendo's copyright-protected game software on systems without Nintendo's Console TPMs or systems on which Nintendo's Console TPMs have been disabled.
Der letzte Satz bezieht sich höchstwahrscheinlich auf Emulatoren wie Ryujinx, die zur Benutzung diese Keys benötigen. Da die Repository zum Zeitpunkt des DMCA-Claims aktiv geforkt wurde, wurden alle 333 Forks mit deaktiviert.
Shchmue bzw. die Entwickler der jeweiligen Forks könnten eine riskante Gegendarstellung einreichen – dann werden die Repos wieder aktiviert, wenn Nintendo nicht innerhalb von 10-14 Tagen rechtliche Schritte einleitet.
Es ist unklar, warum Nintendo ausgerechnet gegen Lockpick vorgeht, da die gleiche Schlüsselableitung bspw. auch in Atmosphère verwendet wird. Es wird vermutet, dass sich der Takedown vorrangig gegen Emulatoren richtet und eine Reaktion auf den vorherigen Upload von "The Legend of Zelda: Tears of the Kingdom" darstellt.
Die Entwickler des Switch-Emulators "Skyline" für Android haben als Reaktion darauf die Einstellung der Entwicklung angekündigt:
It is with great sadness that we bring you this news. Recently, Nintendo has issued a DMCA takedown notice against Lockpick RCM which will likely come into effect on Monday, Lockpick is a core part of legally dumping keys from the Switch. They claim that it circumvents their copy protection (TPMs) and therefore violates their copyright. We find ourselves in a position where we are potentially violating their copyright by continuing to develop our project, Skyline, by dumping keys from our own Switches.