Joel16 hat 3DSIdent aktualisiert.
Neu ist eine GUI-Version mit einer Ubuntu-ähnlichen Oberfläche. Extrahiere dazu den Inhalt des Downloads direkt auf deine SD-Karte. Der Freundescode wird nun angezeigt, allerdings ist dieser höchstwahrscheinlich inkorrekt. Das Banner wurde gefixt und der Nintendo Network Nutzername wird jetzt auch zusätzlich zur ID angezeigt. Außerdem sollte das Programm nicht mehr beim Beenden abstürzen.
Die 3DSX-Version wurde eingestellt. Sie wird zwar immer noch angeboten, allerdings sollte man diese nicht verwenden, da einige Werte aufgrund fehlender Zugriffsrechte nicht korrekt angezeigt werden.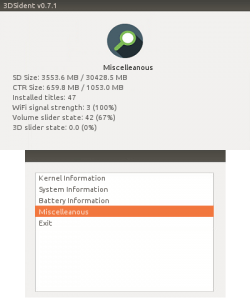 Original:
* Fixed banner.wav (finally) thanks to zoogie for letting me know about this.
* The NNID is displayed properly. This time it shows both your username and ID.
* Fixed a problem that caused crashes when de-initializing actu.
* Add an additional check to prevent crashes while exiting.

GUI:
* New Ubuntu-like UI similar to VITAident. (Now both original and GUI are finally identical :p)
* Values are properly refreshed.
* Added a slight delay to prevent text from appearing glitch-y.