Joel16 hat 3DSIdent aktualisiert.
Die Werte werden nun in der jeweiligen Farbe der Kategorie angezeigt. Hinzugefügt wurden die Geräte-ID, die SOAP-ID, die Stärke des WiFi-Signals und der Status des 3D-Sliders. Werte, die sich laufend ändern (wie z.B. die Lautstärke) werden jetzt auch live aktualisiert. Zudem wurden die Infos zum Speicherplatz neu angeordnet.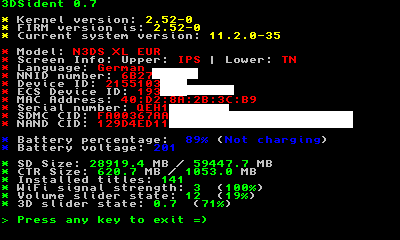 * Reorganized storage info.
* Displays device ID, and soap ID.
* Display 3D slider and WiFi signal strength (actual values and percentages)
* Minor code refactoring thanks to SegFault42.
* Values are now refreshed thanks to SegFault42.
* Values are now represented in their respectful colors thanks to SegFault42. (Blue category = blue values, red category = red values).