Dimok hat zu IOSUHAX einen /dev/iosuhax Knotenpunkt hinzugefügt, welcher verschiedene Kommandos empfangen kann, ähnlich dem wupclient. Allerdings ist er deutlich schneller. Im Zuge dessen hat er außerdem eine Library mit dem Namen libiosuhax veröffentlicht, die andere Entwickler leicht einbinden können, um auf IOSUHAX vom PPC aus zuzugreifen.
Sozusagen als Demo hat er außerdem zwei Anwendungen veröffentlicht, die diese Library nutzen: File Tree to SD und ftpiiu everyhwere.
Alles was ihr tun müsst, um diese Anwendungen zu nutzen, ist, IOSUHAX mit oder ohne redNAND zu kompilieren. Wir haben dafür eine umfangreiche Anleitung. Auch wenn ihr dies schon getan habt, müsst ihr es noch einmal tun, da die Änderungen erst kürzlich vorgenommen wurden. Dann einfach die fw.img über haxchi oder den CFW Booter starten und die Anwendungen über den Homebrew Launcher ausführen.
DOWNLOAD FT2SD
DOWNLOAD FTPIIU EVERYWHERE
Mit File Tree to SD können Inhalte vom NAND auf die SD-Karte gedumpt werden. Momentan können nur vordefinierte Pfade nach SD://ft2sd gedumpt werden, allerdings soll sich dies bald ändern und Dimok hat auch vor, der Homebrew eine grafische Oberfläche zu spendieren.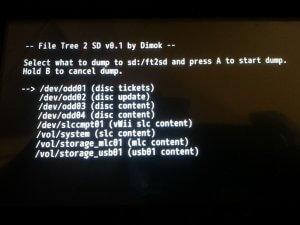 FTPiiu everyhwere ist eine Modifikation von ftpiiu. Der einzige Unterschied ist, dass auf alles im NAND zugegriffen werden kann, also auch auf die Dateien in der vWii, im SLC und MLC, etc.
Natürlich sollten damit keine Dummheiten angestellt werden, da es sehr leicht ist zu bricken. Also nicht einfach willkürlich Dateien ändern, löschen oder hochladen!