JK_ hat einen Speicherdaten-Manager für die Nintendo Switch veröffentlicht.
Der Entwickler ist insbesondere für seinen Speicherdaten-Manager für den 3DS "JKSM" bekannt. Die Switch-Version ist allerdings in einem frühen Stadium und die Touch-Bedienung ist bspw. noch nicht komplett. Wer einen stabilen Weg sucht, seine Speicherdaten zu sichern, sollte einen Blick auf Checkpoint werfen.
Diese Vorabversion nutzt die neue Oberfläche – zur alten kann gewechselt werden, wenn "X" auf dem User-Auswahlbildschirm gedrückt wird.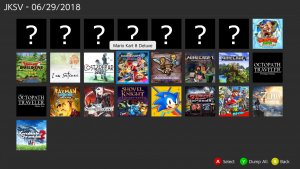 Touch controls are still incomplete, but this is completely usable with standard controls. This prerelease uses the newer UI style and can be switched to the older one on the user select screen by pressing X.