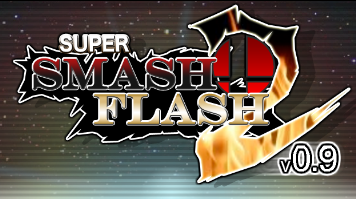 UPDATE 25.07.2013: Version bleibt gleich, nur wurde ein weiterer Bug gefixt.
UPDATE 24.07.2013: Version 0.9.0.2011 erschienen! Changelog unten!
McLeodGaming hat den verbesserten Smashbros. Klon "Super Smash Flash 2" aktualisiert.
Diese Version ist ein Balance-Patch. Er verbessert das Spielerlebnis enorm. Was alles gefixt wurde, seht ihr im Spoiler!
CHANGELOG v0.9.0.2011
CHANGELOG v0.9.0.2007
Notable major changes in this version:
Various balancing changes across the board (detailed in minor changes)
General AI improvement
All known infinites have been removed
Social media buttons added to title screen
Star KO and screen KO no longer turn players invisible and always KO them
De-transforming in the air takes you directly to the fall animation
Projectile hitlag freezes the projectile's frame
All final form transformations stop your fall
Wario-Man's grab and item use freeze bugs fixed
Jigglypuff now has a downward pound
Samus's down special no longer intangible
Naruto recolored and re-shaded to better match the roster and improve the quality of palette swaps
Kaio-Ken Goku's taunt no longer intangible
Many music loops improved.
New music on Jungle Hijinx, Yoshi's Island, Crateria, Bomb Factory, and Hueco Mundo.
Jungle Japes barrel no longer glitches when two players enter a barrel at the same time
Jungle Japes barrel grab size no longer too big (Makes event #5 less difficult)
Meteo Voyage's lag has been drastically reduced
Target Test Level 1 stage now with a new updated look and moving Platforms.
Minor changes:
Link received a small audio upgrade
Zelda heavily rebalanced
Link heavily rebalanced
Donkey Kong heavily rebalanced
Meta Knight heavily rebalanced
Meta Knight CPU now understands how to end up special
Tails received a major AI upgrade
Jigglypuff received a major AI upgrade
Bomberman CPU now knows how to detonate, kick and sit bombs down
Black Mage's fully charged down smash is much quieter
Bomberman's bombs no longer halt momentum if kicked in the air
Phase 8's lava animated
…more!