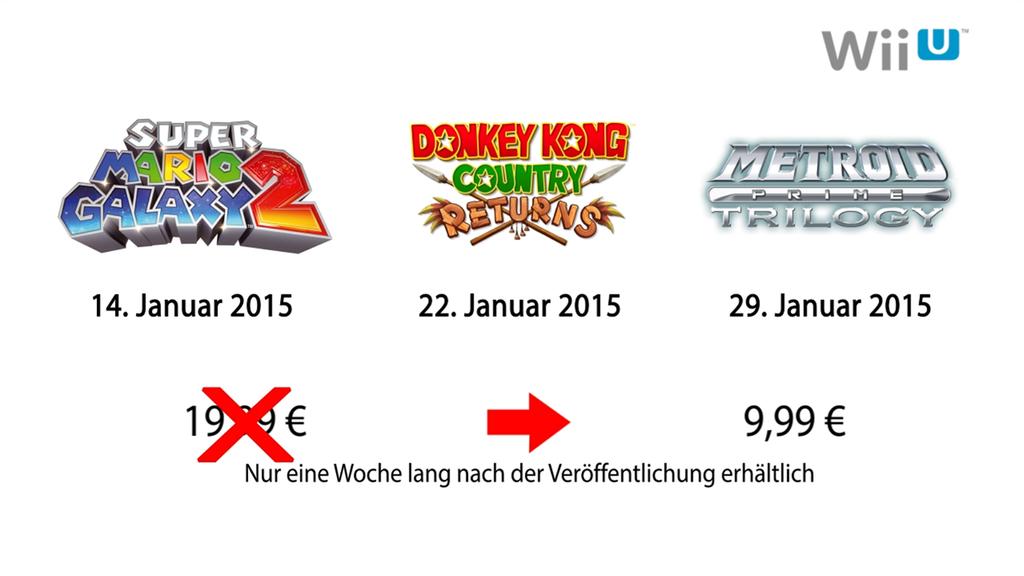 In der heutigen Nintendo Direct hat Nintendo angekündigt, dass ausgewählte Wii-Spiele für die Wii U im eShop erhältlich sein werden.

Die Wii-Spiele werden sich direkt aus dem Wii U-Menü starten lassen und das GamePad als Steuerung unterstützen, wenn sie den Classic Controller unterstützen. Diese Titel werden eine Woche nach deren Veröffentlichung für 9,99€ angeboten, danach kosten diese 19,99€.
Super Mario Galaxy 2 ist bereits erhältlich, Donkey Kong Country Returns erscheint am 22. und Metroid Prime Trilogy am 29. Januar 2015. Außerdem sind die Spiele Punch-Out, Pandoras Tower, Sin and Punishment: Successor of the Skies und Kirbys Adventure Wii in Planung.