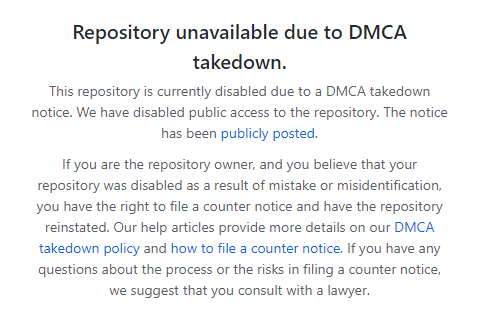 Nintendo hat die GitHub-Repository von iTotalJustice mit den Signatur-Patches für die Switch mit einem DMCA-Takedown sperren lassen.
Als Begründung wird angegeben, dass die Signatur-Patches die Kopierschutzmaßnahmen von Nintendo aushebeln und das Abspielen von-nicht gekauften Spielen ermöglichen würden. Genauer:
The use of SigPatches with a modified Nintendo Switch console allows users to bypass Nintendo's Technological Measures for downloaded digital games; specifically, SigPatches allow users to bypass the signature verification in the Game TPMs when a downloaded digital game is started. The necessity of SigPatches to operate pirated copies of Nintendo's video games is widely discussed in groups dedicated to modifying (hacking) the Nintendo Switch console.
GitHub konnte die Behauptung bezüglich einer Umgehung von Kopierschutzmaßnahmen nicht bestätigen, hat die Git-Repository aber dennoch aufgrund anderer Copyright-Beschwerden entfernt.
While GitHub did not find sufficient information to determine a valid anti-circumvention claim, we determined that this takedown notice contains other valid copyright claim(s).
Diese Aktion reiht sich in eine lange Liste an Angriffen auf die Homebrew-Szene ein, die Nintendo in den letzten Jahren aggressiv verschärft hat.
Update, da eine Nachfrage kam: Wer sich Signatur-Patches selbst erstellen will, kann sich diesen Post hier auf GBATemp zu Genüge führen. Für Atmosphère Loader-Patches geht es hier entlang.