Asdolo hat einen weiteren Injector für Virtual-Console-Spiele veröffentlicht! Mit diesem lassen sich NES-ROMs injizieren. Zudem hat auch der Game-Gear-Injector ein Update erhalten.
DOWNLOAD NES VC INJECTOR
DOWNLOAD GAME GEAR VC INJECTOR
Der NES VC Injector ist neu und funktioniert so selbsterklärend wie die anderen Programme. Ein Schritt-für-Schritt-Tutorial ist auf GBATemp zu finden.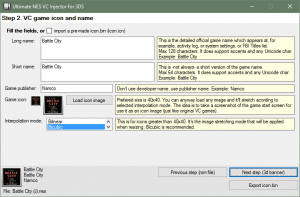 Der kürzlich erschienene Game-Gear-Injector hat ein Update erhalten.
Ein zusätzlicher Rom-Check wurde entfernt, jetzt sollten keine Fehler mehr bei der Erstellung auftreten. Ein kurzer Name kann nun auch angegeben werden, wenn ein Icon für die CIA erstellt wird und das Icon benutzt jetzt den offiziellen Rahmen der Game Gear VCs.
* Changed: Removed an extra rom check, so you should have no errors with any .gg rom
+ Added: Now you can specify a short game name when making the icon of the CIA.
* Fixed: Now the icon has the official Game Gear VC border!