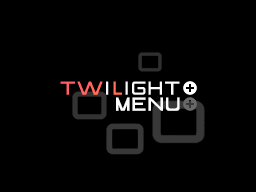 Das TWiLight Menu++ sieht aus wie das DSi-Menü und kann in Verbindung mit NDS-Bootstrap DS-Homebrews und DS-Spiele von der SD-Karte abspielen.
Nach jahrelanger Arbeit lassen sich endlich DSi-exklusive Spiele und DSi-erweiterte Spiele im DSi-Modus abspielen! Das bedeutet, dass unterstützte Spiele (wie etwa Pokémon Schwarz/Weiß (2)) sich bspw. über WPA ins Internet verbinden oder die Kamera verwenden können. Auch werden alle DSi-exklusiven Retail-Titel und folgende DSiWare-Spiele unterstützt:
Earthworm Jim
Shantae: Risky's Revenge
The Legend of Zelda: Four Swords: Anniversary Edition
X-Scape
und mehr!
Allerdings ist das Speichern in DSiWare-Titeln zurzeit defekt…
Das In-Game-Menü bleibt aufgrund des Speicherhungers dieser Spiele deaktiviert und wird beim Öffnen diese beenden. Die Region lässt sich natürlich auch setzen.
Beim TWLMenu++ wurden AP-Fixes und Widescreen-Patches in eine PACK-Datei gepackt, damit sie nicht mehr die SD-Karte füllen – wer aktualisiert, sollte die Ordner "widescreen" und "apfix" aus sd:/_nds/TWiLightMenu/ löschen. Leider bedeutet das auch, dass man sie nicht mehr so einfach von extern bearbeiten kann…