Mogzol hat den BrawlBuilder zum Erstellen von ISOs aus Smashbros-Mods aktualisiert.
Der Ordnerauswahl-Dialog wurde direkt in die EXE eingefügt, was bedeutet, dass die externe DLL nicht mehr benötigt wird. Dies sollte das Problem beheben, dass einige User den Dialog nicht sehen konnten oder das Programm abgestürzt ist, weil die DLL fälschlicherweise blockiert wurde.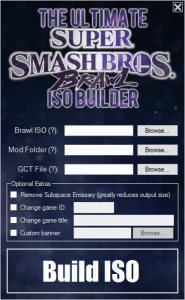 The necessary parts of Ookii.Dialogs (i.e., the folder select dialog) are now compiled into the BrawlBuilder executable, which means the external DLL is no longer required. This should fix the issues some people are having with their computer blocking the DLL.