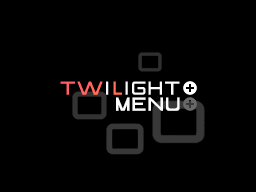 Das TWiLight Menu++ sieht aus wie das DSi-Menü und kann in Verbindung mit NDS-Bootstrap DS-Homebrews und DS-Spiele von der SD-Karte abspielen.
Homebrews, wie GodMode9i und TMFH funktionieren nun und DS Download Play, sowie Pictochat sollten keinen weißen Bildschirm mehr anzeigen, wenn das letzte Spiel von einer Flashcard geladen wurde. Zudem muss für "Bee Movie" und "Dragon Quest IV" nicht mehr "L" gehalten werden.
Improvement
* Homebrew check is now completely devoid of arm7 binary size and TID checks.

Bug fixes
* arm9 start signature is now checked after the secure area in modern homebrew (which is just 00s).
* Fixes support for homebrew such as GodMode9i and TMFH (Title Manager for HiyaCFW).
* Quick Menu: DLP and/or Pictochat will no longer white screen, if the last-launched game is on a flashcard.

You no longer need to hold L for the following games to work
* Bee Movie
* Dragon Quest IV: No longer crashes when talking to vendors in the first chapter.