Am 26. Februar 2011 erschien der Nintendo 3DS zum ersten Mal in Japan und machte 3D populär. Er begleitete Nintendo durch eine schwere Zeit, bereitete uns viel Spielspaß und läutete als letzte "richtige" Handheld-Konsole das Ende einer Ära ein.
Es dauerte noch bis zum 25. März, bis wir den 3DS dann auch hierzulande kaufen durften – damals u.a. in schickem Aquablau. Anfangs ging der Handheld aber kaum über die Ladentheke und so sah sich Nintendo gezwungen, den Preis zu senken und bisherige Käufer mit dem Botschafter-Programm zu kompensieren, welches aus einigen Virtual-Console-Titeln bestand. Die GBA-Titel sind nie für andere erschienen, aber das hält uns ja nicht auf.
Am 28. Juli 2012 erschien dann der Nintendo 3DS XL, gefolgt im Jahre 2013 vom Nintendo 2DS, 2014/15 vom New Nintendo 3DS (XL) und 2017 vom New Nintendo 2DS XL. Die Produktion aller Modelle wurde im September 2020 eingestellt.
Fast 76 Millionen Mal konnte sich der 3DS seither verkaufen, wobei Mario Kart 7 mit fast 19 Millionen verkauften Einheiten auf Platz 1 der meistverkauften 3DS-Spiele liegt. Als "echtes" Handheld-System hatte der 3DS noch den Vorteil, auch viele einzigartige Spiele zu bekommen, insbesondere von 3rd-Party-Entwicklern. Der 3DS war bald Nintendos wichtigstes Zugpferd, da die Wii U bekanntermaßen kein Erfolg war. Allerdings verärgerte dies später auch etliche Switch-Fans, die sich dadurch benachteiligt fühlten.
Für mich war der 3DS die erste Konsole, deren Launch ich aktiv mitbekam. An Weihnachten 2011 wurde mein Wunsch erfüllt und ich bretterte mit Mario Kart 7 zum ersten Mal unterwegs über die Pisten (nein, ich hatte nie einen DS). Ohne Smartphone blieb ich damals mit Freunden sogar über den Nintendo Briefkasten in Kontakt. Später kaufte ich mir zuerst eine R4i Gold 3DS DS-Flashkarte, als auch eine Gateway 3DS und wechselte anschließend zu arm9loaderhax und Luma3DS (damals noch AuReiNand).
Meine Lieblingsspiele listete ich u.a. vor zwei Jahren auf:
Mario Kart 7
Super Mario 3D Land
Kid Icarus: Uprising
The Legend of Zelda: A Link Between Worlds
Super Smash Bros.
The Legend of Zelda: Majora's Mask 3D
The Alliance Alive
Puyo Puyo Tetris
Nintendo Badge Arcade
Internetbrowser (haha)
und sicherlich noch einige mehr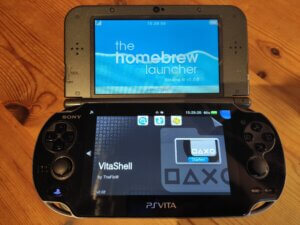 Ende 2014 wurde der erste Userland-Exploit veröffentlicht und eine großartige Homebrew-Szene gestartet, die es nicht immer leicht hatte. Die großen Entwicklungen bleiben leider aus, aber vielleicht kommt da in Zukunft noch mehr  – wer hätte je mit einem Nintendo-64-Emulator gerechnet? Die Homebrew-Szene ist wenigstens ein was, wo die im gleichen Jahr erschienene PlayStation Vita die Nase vorn hat 😉 .
Ich hoffe, dass es sich Nintendo in Zukunft vielleicht doch noch anders überlegt und uns wieder einen ordentlichen Handheld mit neuen Spielen präsentiert. Die Abkehr von Handheld-Systemen zeigt nicht nur einen Wandel im Gaming-Bereich, sondern auch in der Firmenpolitik Nintendos…