Asdolo hat einen Forwarder Maker für SNES-Spiele (vorerst nur New3DS) veröffentlicht und seinen Genesis/Mega Drive Forwarder Maker aktualisiert.
DOWNLOAD ULTIMATE SNES FORWARDER MAKER FOR 3DS
DOWNLOAD ULTIMATE GEN-MD FORWARDER MAKER FOR 3DS
Mit dem SNES Forwarder Maker können SNES-Spiele in eine CIA gepackt werden,damit diese genauso aussehen, als wären sie Virtual-Console-Spiele! Als Basis dient eine modifizierte Version von RetroArch. So lässt sich z.B. auch Super Mario RPG spielen! Es lässt sich auch der RetroArch-Kern auswählen: PocketSNES, CATSFC, CATSFC Plus und Snes9x-next. Später sollen auch blargSnes und SNES9x 3DS hinzukommen, welche auch auf dem Old3DS benutzbar sein werden.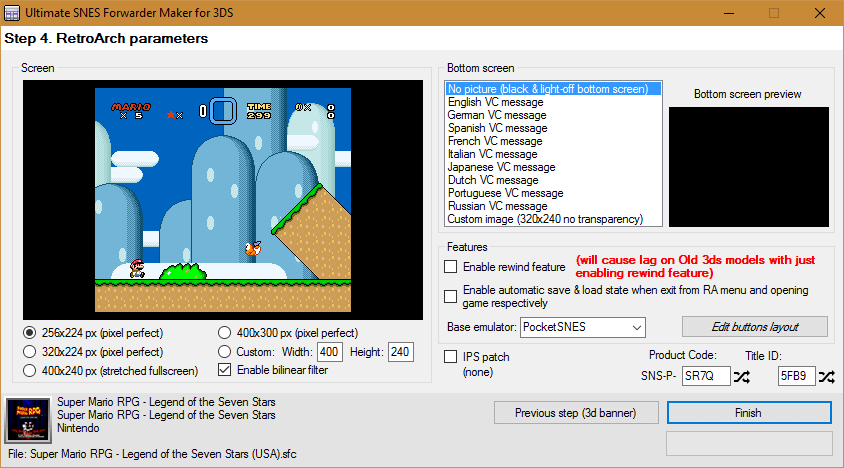 ---

Der Genesis/Mega Drive Forwarder Maker wurde auf v1.2 aktualisiert.
Der 3DS kann jetzt zugeklappt werden, wenn das Spiel pausiert wurde, ohne, dass dabei Probleme auftreten. Außerdem wurde das Soundproblem gefixt, wenn das Spiel wieder aufgenommen wird.
* Fixed the 3DS crash when going into sleep mode when the game is suspended.
* Fixed sound issue when returning to the game after going into Home Menu or sleep mode if the Game Menu was open (reported by @angelhp).
Danke an Dirk für den Hinweis!