Willkommen zu unserem Test des Xecuter SX Pro! Nach langem Warten ist das Produkt nun endlich da. Mithilfe des Xecuter SX Pro und des enthaltenen OS lassen sich Backups von Nintendo-Switch-Spielen, sowie Homebrew ausführen. Team Xecuter hat uns freundlicherweise ein Review-Sample bereitgestellt – danke dafür! Dann sehen wir uns das Ganze doch mal an!

HINWEIS:

Dieser Test ist vom Juni 2018. In der Zwischenzeit hat sich sehr viel geändert und verbessert. Bitte behaltet das im Hinterkopf. Die aktuelle

Feature-Liste

findet ihr in unserer Download-Datenbank.

Features

Hier der Unterschied zwischen Xecuter SX Pro und SX OS:

Xecuter SX Pro:
Bestehend aus USB-Dongle, microUSB-Kabel und Xecuter SX OS
Kompatibel mit allen Firmware-Versionen und Regionen
Ständige Updates
Preis: 34,95 $ (ohne Versand und Steuern)
Xecuter SX OS:
Besteht aus der SX OS Software-Lizenz
Tools zum Installieren werden benötigt (RCM-Jig und USB-Kabel, nicht enthalten)
Kompatibel mit allen Firmware-Versionen und Regionen
Real-Time Game Switching per Menü -> XCI und getrimmte XCI werden unterstützt
Homebrew-Support (Album starten, während R gedrückt gehalten wird (bootet die hbmenu.nro); Album startet normal, wenn L gedrückt gehalten wird)
Original-Spiele können weiterhin abgespielt werden
Payload-Booter
Ständige Updates
"AutoRCM" zum automatischen Booten in den RCM (Dongle wird bei jedem Start benötigt)
Preis: 24,95 $ (ohne Versand und Steuern)
Ergo: Wenn ihr NUR das OS kauft, braucht ihr noch einen Jig und ein USB-Kabel. Und dann ist man zusätzlich auf ein kompatibles Handy oder auf einen PC angewiesen, um den Payload bei jedem Kaltstart an die Switch zu senden. Hier ist der Dongle von SX Pro deutlich bequemer, da man ihn und den enthaltenen Jig einfach ansteckt und die Switch anschaltet – mehr dazu gleich!

Aussehen

Dank Expressversand erreichte mich das Paket innerhalb sieben Tage aus Hongkong (und am Montag war noch Feiertag dort). Nachdem ich dreitausend Packungen entfernt habe, erblickte mich auch schon die eigentliche Verpackung. Klick auf die Bilder vergrößert diese wie gehabt.
Und rechts ist alles drin:
Rechts haben wir den Dongle und links den Jig. Ich war echt erstaunt, wie klein die beiden doch sind! Auf Produktbildern wirkt immer alles so viel größer! Hier noch zwei weitere Bilder, damit ihr die Größe abschätzen könnt:
Enthalten ist auch ein microUSB-Kabel, mit dem der Dongle an einem PC geladen werden kann, was nicht allzu oft vorkommen dürfte, da sich der Dongle auch an der Switch lädt. Und hier kommt das alles zusammen: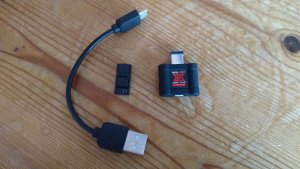 Setup

Xecuter stellt eine Quickstart-Anleitung bereit, die das Aufsetzen ganz leicht macht.

Zuerst sollte der Dongle einmalig geladen werden. Dazu muss die Switch normal angeschaltet und dieser eingesteckt werden (nicht vergessen, die Verschlusskappe vorne zu entfernen). Jetzt ca. fünf Sekunden warten, bis die LED am Dongle grün aufleuchtet und die Switch wieder ausschalten. Oder ihr nehmt einfach das microUSB-Kabel und ladet den Dongle an eurem PC.

Als nächstes das SX OS herunterladen und die boot.dat auf die SD-Karte der Switch kopieren.

Jetzt den rechten Joy-Con entfernen und den Jig von oben in die Rail nach unten schieben. Das kann beim ersten Mal etwas schwierig sein, einfach weiterdrücken und es geht von allein bis nach unten. Dies groundet Pin 10, den "versteckten HOME-Button" der Switch. Dieser muss nämlich gedrückt werden, wenn man in den Tegra Recovery Mode will – dazu gleich mehr.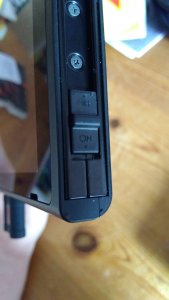 Ja, der Jig geht nicht bis ganz runter, nicht wundern. Jetzt noch den Dongle anstecken, falls nicht schon getan und die Lautstärke-hoch-Taste gedrückt halten und dann POWER drücken. Damit wird in den Tegra Recovery Mode gebootet und der Dongle sendet einen Payload. Wie Fusée Gelée, nur einfacher! Jetzt startet das SX OS!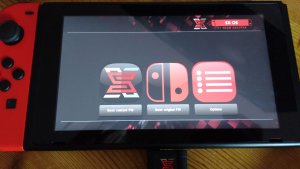 Hier haben wir die Möglichkeit, in die Custom Firmware oder in die originale Firmware ohne Modifikationen zu booten. Mit den Optionen beschäftigen wir uns im Anhang. Wenn wir in die CFW booten, wird uns gesagt, wir hätten keine Lizenz – das erledigen wir gleich, zuvor müssen wir noch die Erstellung einer license-request.dat bejahen.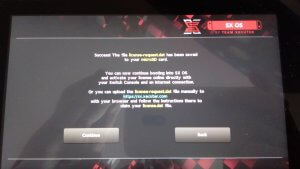 Achtung, beim ersten Boot muss der Dongle noch angesteckt bleiben, da in diesem die Lizenz enthalten ist! Jetzt geht's weiter in die CFW. Hier sollten wir den Jig entfernen, ansonsten verbindet sich der rechte Joy-Con nicht. In der Switch-Firmware muss das Album gestartet werden und schon ist das TX-Menü sichtbar! Hier einfach mit aktiver Internetverbindung und eingestecktem Dongle A drücken und die Lizenz wird mit dem Server validiert und aktiviert. Wer keine Internetverbindung an der Switch hat, kann das OS auch am PC aktivieren.
Jetzt die Konsole ausschalten, Jig wieder anstecken (Dongle nicht entfernen), Lautstärke hoch gedrückt halten und Power drücken. Dann wieder die CFW booten und jetzt können Dongle und Jig entfernt werden! Das war's mit der Einrichtung!

TX-Menü

Wird das Album ausgewählt, während kein Knopf gedrückt wird, wird das TX-Menü gestartet, in dem Spiele-Backups einfach ausgewählt werden können. Diese müssen als "XCI" im Root der SD liegen. Auf FAT32 müssen diese zusätzlich gesplittet werden, für exFAT muss das exFAT-Update installiert sein (wenn eine exFAT-Karte eingesteckt wird, Achtung, updated auch die Firmware!). Wir testen das Ganze mit getrimmten und gesplitteten XCIs. Backups von Cartridges lassen sich mit dem WAINCartDumperNX anlegen.

Die Konsole hier ist übrigens auf 5.1.0.
Mit "A" wird ein Backup gemounted, das kann je nach Größe etwas dauern. So werden kleinere Spiele wie Mario Kart 8 Deluxe quasi sofort gemounted, größere wie The Legend of Zelda: Breath of the Wild brauchen aber ca. 10-20 Sekunden. Es wird dann ganz normal als Cartridge angezeigt. Spiele-Updates können auch installiert werden – wie Nintendo das mit Banns handhabt ist natürlich noch unbekannt.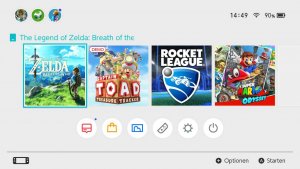 Einfach normal starten und voilá!
Wenn das Spiel gewechselt werden soll, einfach HOME drücken und das Spiel zuerst beenden und dann ein neues im TX-Menü wählen. Easy peasy!

Homebrew

Um Homebrew zu nutzen, muss zuerst das Homebrew Menu in den Root der SD kopiert werden. Danach einfach "R" gedrückt halten, während das Album aufgerufen wird.

Also:
Kein Button = TX-Menü
R-Button = Homebrew
L-Button = Album
Mit den getesteten Homebrews habe ich keine Probleme festgestellt. Laut einigen Usern gibt es aber noch ein paar Probleme mit einigen. Daran sollte TX natürlich noch feilen!
Anhang

Im Anhang beschäftigen wir uns mit AutoRCM und dem Payload-Chainloader. Wenn ihr Lautstärke hoch gedrückt haltet, während ihr eure Switch mit Jig und Dongle einschaltet (also auch noch, wenn das Logo angezeigt wird), landet ihr wieder im Bootmenü. Dort kann AutoRCM installiert und ein externer Payload gebootet werden.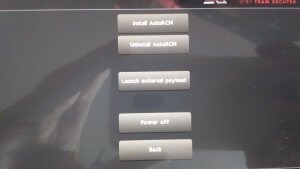 "AutoRCM" ist das Gleiche wie briccmii. Der BCT der Switch wird so "beschädigt", dass die Switch nur noch in den RCM bootet – das heißt der Jig fällt weg und zum Booten reicht es, wenn der Dongle angesteckt und einfach auf Power gedrückt wird. Dann könnt ihr allerdings nicht mehr ohne Dongle booten.
Mit "Launch external Payload" kann ein externer Fusée-Gelée-Payload gebootet werden. Da wie oben erwähnt einige Homebrews mit SX OS nicht laufen, lässt sich so bspw. hekate ausführen. Alle BINs im Root der SD werden hier aufgeführt.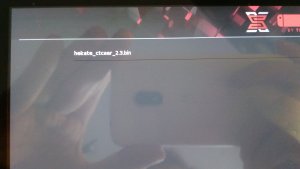 Probleme
CARD2-Spiele funktionieren nicht (selbst nicht getestet, werden aber erst in Zukunft unterstützt – das sind Spiele mit einer separaten Logo-Partition. Auf nswdb.com können alle CARD2-Games gesehen werden)
Laut GBATemp funktionieren eine handvoll Spiele noch nicht – bspw. L.A. Noire
Am Homebrew-Support sollte noch gefeilt werden – pSNES stürzt beispielsweise ab
Team Xecuter gibt die Standby-Zeit des Dongles mit einer Woche oder zehn Boots an. Allerdings finde ich es unverständlich, wie ich wissen soll, ob die Ladung des Dongles voll ist. Manchmal steckt man dann im RCM "fest" und der Dongle hat keine Ladung mehr und man muss die Konsole hart ausschalten (POWER für ca. 15-20 Sekunden gedrückt halten)

UPDATE: Unser Dongle scheint einen Defekt gehabt zu haben, siehe Kommentare

UPDATE 2, Januar 2019: Bis heute haben wir keinen Ersatz bekommen
Fazit

Alles in allem ist der Xecuter SX Pro ein sehr gutes Produkt, was einfach zu bedienen ist. Man ist nicht auf ein Handy oder einen PC angewiesen, um SX OS zu starten und der Dongle ist wirklich klein genug, um ihn bspw. in der Hostentasche mit zu führen (und beim Handy bräuchte man noch entsprechende USB-Kabel). Die Bedienung des SX OS ist einfach und Jig und Dongle sind qualitativ hochwertig gebaut.

Natürlich kann man sich sicherlich in Zukunft einen Dongle selbst bauen oder einen billigen Klon kaufen. Allerdings wird man dadurch nicht diese Qualität und Einfachheit erreichen. Und genau darum geht es ja beim SX Pro.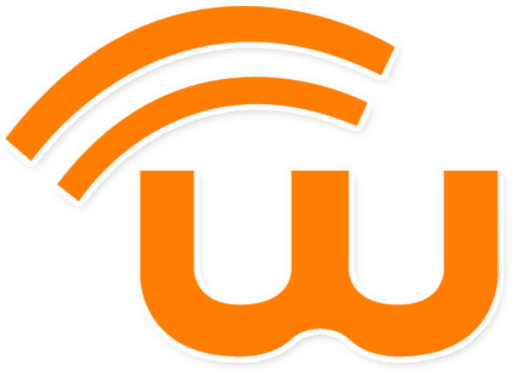 Zum Zeitpunkt dieses Tests ist SX OS v1.1 aktuell – also immer mal wieder nachsehen. Das Produkt kann bei einem Reseller erworben werden. Weitere Informationen erhaltet ihr auf der offiziellen Webseite.