Da Tinfoil die gleiche Implementation für Installationen übers Netzwerk wie FBI benutzt, wird der NSP-Installer jetzt ebenfalls unterstützt und es können NSPs bequem über den PC an die Switch gesendet und installiert werden! Unübliche Zeichen in Dateinamen (wie Emojis) funktionieren auch und ein verbesserter HTTP 2.0 Server wurde implementiert.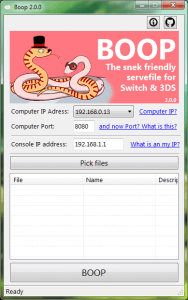 * Added support for Tinfoil on Nintendo Switch (Thanks to @Adubbz for his patience)
* New and improved http 2.0 server implementation (EmbedIO)
* Full support for crazy characters in the names. (Including emojis!)
* A bit of UI redesigning and cosmetics.
* ANOTHER SNEK!!! AND THIS HAS A TOP HAT!!!