DarkMatterCore hat seinen Multi EmuNAND Creator für den 3DS aktualisiert.
Mit diesem Tool kannst du (wie der Name schon sagt) mehrere EmuNANDs für den 3DS erstellen. Sehr nützlich, falls man mal etwas testen möchte. Luma3DS unterstützt momentan nur zwei EmuNANDs, aber das Tool kann bis zu vier erstellen.
1,82 GiB New3DS NAND-Dumps werden jetzt unterstützt und 2DS NAND-Dumps werden nun korrekt erkannt. Mit "Format EmuNAND" wird ab dieser Version ein kleinerer RedNAND erstellt und der "Remove NAND" Button wird nun aktiviert, wenn ein vorheriger Versuch, den ersten EmuNAND zu entfernen, fehlgeschlagen ist.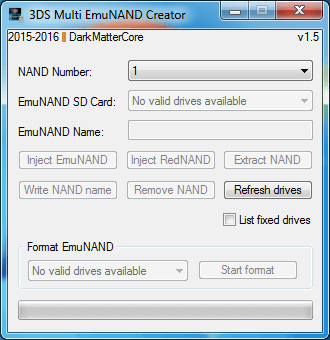 * Added support for 1.82 GiB N3DS NAND dumps.
* Added proper detection of 2DS NAND dumps.
* The "Format EmuNAND" procedure now defaults to the 'minimum' setup size, using a RedNAND.
* The program now forces the "Remove NAND" button to be enabled if a previous attempt to remove the first EmuNAND failed.
* The MBR is now manually initialized with zeros before creating it using WinAPI instructions (leftover data is kept in sector #0 otherwise).